Lili And Osip Brik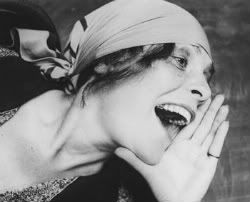 Lili Yurevna Kagan was born on October 30th, 1891, to a Jewish family in Moscow. Her father, Yuri Aleksandrovich Kagan, was a lawer, who struggled for many years to gain recognition, as at this time Jews were not very accepted in Russia. Her mother, Yelena Yulevna Berman, was a talented musician who studied at a conservatory. Because of her family's affluence, both Lili and her sister Elsa (who later became the famous French writer Elsa Triolet) grew up studying piano and speaking both German and French fluently.
Osip Brik was born on January 4th, 1888 in Moscow. His father, Maksim Pavlovich Brik, was a merchant and the proprietor of his own firm, «Pavel Brik, Widow and Son», where Osip would later work. His mother, Paulinn Yurevna, was a polyglot with a particular interest in Herzen. Although he spent time studying law, Osip would eventually become an important literary critic, his interest in literature especially piquing upon meeting Mayakovsky. He would later go on to co-found the journal Lef and later Novi Lef (Леф, Новый Леф) with Mayakovsky.
Like Mayakovsky, by 1905 Lili was already interested in the revolution. She began participating in a political group at school, where she met her future husband Osip Brik. However, their initial attraction seemed to wane, and the two studied independently for a while: Osip studied law and begin working at his father's firm, and Lili went on to study mathematics as an exceptional student at Guierrier's Higher Women's Course for math. Later, however, she studied at the Moscow Architectural Institute, deciding to study the arts instead. This took her abroad for several years, and upon returning in 1912, she and Osip married.
The Cloud in Trousers
The Briks were initially taken aback by Mayakovsky, believing the antics of futurists to be too rough and brutal. However, in 1915 he was invited to their apartment, where he began reciting his new long poem A Cloud in Trousers. This proved to be a defining moment in all three of their lives: the Briks were immediately taken with him, Osip deciding on the spot to publish the poem at his own expense, as Mayakovsky had had some considerable trouble publishing it on his own. Mayakovsky soon began introducing the Briks to his futurist friends, and a sort of salon began to emerge in the Brik's apartment, with Lili and Mayakovsky emerging at the center.
For Mayakovsky and Lili, or «Lilia» as he called, her this would begin an intense relationship that would last throughout Mayakovsky's life. He dedicated Cloud to Lili, as he would most of his poems until 1928. The two began a relationship almost immediately, writing his next long poem, The Backbone Flute, would more blatantly be about his love for her. Osip proved not to be a problem for the two of them: Lili notes that by the time she met Mayakovsky, there was very little intimacy left between her and her husband, and though she still loved him very much, it was more of a love between friends or siblings. Indeed, Lili notes that Osip seemed to need Mayakovsky as much as she did, seeing him as a great friend and inspiration. The three of them began living together, an arrangement that the Briks especially struggled to keep together near the end of Mayakovsky's life.
It becomes apparent quite quickly in their correspondences the exact nature of the relationship between Lili and Mayakovsky. There seems little doubt that Lili loved Mayakovsky, but for Mayakovsky, Lili was his everything. Lili herself notes «Volodya didn't simply fall in love with me. He attacked me, I was under attack. For two and a half years I didn't have a single minute's peace- quite literally.» Indeed, many of Mayakovky's letters to her in this time consisted almost entirely of how much he loved her, and how many times he wished to kiss her, he her «puppy» and she, his «kitten.» And while Lili reciprocated, Mayakovsky's became overbearing. His constant «loving at her», was a constant strain on their relationship, causing Lili to need time apart from him on several occasions.
Lili was not Mayakovsky's only relationship throughout his life, nor Mayakovsky for her. In 1926 during his time to New York, Mayakovsky met Ellie Jones, who bore him a daughter. Twice, he even came close to marrying- first to Natalya Bryukhanenko, also in 1927, to Tatiana Yakovleva in 1928. On both of these occasions, both Lili and Osip seemed to resist: while all of them had had their own relationships over the years, to them the «family» the three of them had created was something that could not be broken. In a correspondence on August 17, 1927, Lili writes of Bryukhanenko,
«Please don't get seriously married, because everyone is assuring me that you're terribly in love and will definitely get married! All three of us are married to each other and to get married any more is a sin.»
Yakovleva posed an even more peculiar problem for the Briks: Mayakovksy's relationship with her had grown so intense that he began to dedicate his poetry to her instead of Lili. Though, all the while Mayakovsky admitted openly, to both Bryukhanenko and Yakovleva, that his only and primary love would always be Lili, these other women still posed a threat to Mayakovsky's «real family.» It is also thought that when he planned to marry Yakovleva, the Briks may have had a hand in getting his passport denied, causing the wedding not to happen.
The Briks were both abroad when Mayakovsky committed suicide in 1930. Lili was mentioned in his will as part of his family, and left several verses to the Briks because they could "figure them out." Adding to the controversy surrounding Lili and Osip, supposedly Mayakovsky's mother and sisters did not recognize Lili as any part of their family, and had spent years trying to get him away from them, and were upset that she held so many of his manuscripts. However, the exact circumstances of this are unknown. Much has been made of the Briks since Mayakovsky's death- everything from trying to erase the significance of Lili to casting the pair as manipulators, responsible for Mayakovsky's misery and ultimately, his death. However, it cannot be denied that Lili was in fact the muse and love of Mayakovsky's life, to the point where he openly admitted to his other lovers that she would always be first to him.

The first part of «The Young Lady and the Hooligan», a silent film starring Mayakovsky